Chiropractor Scot Bowles D.C.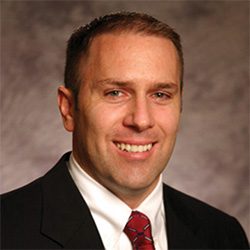 Dr. Scot Bowles has been serving Oregon City and the surrounding communities in Oregon since 2004. He is passionate about improving the health, well-being, and life enjoyment of his patients and earnestly seeks to use his clinical expertise to help people elevate their ability to function in all aspects of their lives. Many suffer needlessly with pain and/or limited function due to conditions that can be safely and effectively treated with chiropractic care.
Dr. Bowles uses chiropractic care to improve the health and wellness in all areas of patient's lives, whether they are having problems with back pain or neck pain, or just want to start feeling better when they wake up in the morning. Dr. Bowles takes a "whole person" approach in chiropractic care, which means looking for the underlying causes of disease, discomfort, and pain, as opposed to just treating the symptoms. Many seemingly unrelated symptoms often arise from imbalances in the spinal column, and Dr. Bowles will be able to determine the root cause of the pain and create a personalized chiropractic and wellness plan to suit each patient's individual needs. Under the supervision and care of Dr. Bowles, patients report higher functioning in all areas of their lives.
Dr. Bowles is a gentle and caring chiropractor who has treated patients with chronic and acute back, neck, shoulder, sciatic nerve and extremity pain. His focus on one-on-one relationships with his patients and rendering care focused on the specific needs of each individual sets him apart from the others.
When he's not seeing patients Dr. Bowles enjoys running, golfing and exploring the beautiful Oregon outdoors. However, his favorite activity is spending time with his wife and five children.
If you have any questions about Dr. Bowles, or would like to learn more about chiropractic care at Hilltop Chiropractic, please contact us today!
---
Dr. Bowles' Education:
Doctor of Chiropractic (Cum Laude) 2002 - Western States Chiropractic College - Portland, OR
Bachelor of Science 1998 -- Brigham Young University - Provo, UT
---
Post-Graduate Training:
Spine Research Institute of San Diego 2009 -- Whiplash and Brain Injury Traumatology Graduate
Certified Rocktape Practitioner
Certified in Gait-Referenced Orthotic Casting Technology for the capture of MASS position
Advanced clinical training in biomechanics and orthotics
---
Memberships:
American Chiropractic Association
Oregon Chiropractic Association
OFFICE HOURS
---
Monday
8:00am - 6:30pm
---
Tuesday
8:00am - 6:30pm
---
Wednesday
8:00am - 6:30pm
---
Thursday
8:00am - 6:30pm
---
Friday
8:00am - 1:00pm
---
Saturday
Closed